Land Stewardship–Basic Information to Help You Care for Your Piece of Heaven
Technical Resource Information for Land Management Concerns
An additional resource for landowners or organizations is a website that shows availability of a number of different programs. The Montana Conservation Menu is a website that shows the different grant and program organizations and the types of projects you can potentially receive funding for. We encourage you to check it out!
Grazing Livestock Near Streams and Rivers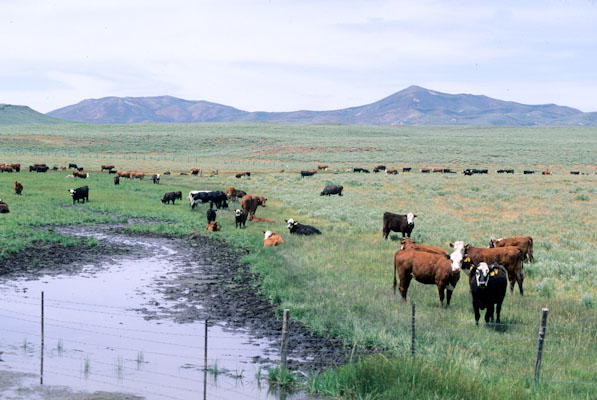 Raising livestock is a way of life for many Montanans. There are ways protect your land from erosion, improve water quality, and still allow your livestock to access water through the adoption of Best Management Practices (BMPs). Open grazing along the banks, if allowed to be done in excess, can increase erosion leading to loss of vegetation, land, and decreased water quality.

Chronic overgrazing causes channels to become wider and shallower and leads to a loss of fish habitat, a loss of riparian vegetation, increased flood damage zones, increased erosion, increased channel migration, and poor water quality.
Water Gap on the Missouri River, Credit Grant Grisak
The development of livestock watering access points like water gaps is an excellent approach to protect your land and its resources while still allowing for livestock to access their water source. An alternative to water gaps is an off-stream water supply tank to provide animals with water.
Off stream water tank for livestock, Credit NRCS
Forestry Considerations
Over the years the Conservation District has witnessed many fires in the county, most notably the 1988, 1994, 2000, 2012 and 2019 fire years.
With increasing development in the county, many people are moving into what is known as the Wildland Urban Interface (WUI), especially in the Helena, Lincoln and Wolf Creek areas.
These areas are historically forested land, and as development moves into them, the normal pattern of small fires periodically moving through the area stops. This leads to increased growth of understory brush and small trees, which increases the potential for catastrophic fire, loss of homes and some pretty high costs of recovery with losses of homes and other property.
Cost of fighting fires in the WUI is increased too, with firefighters having to work among homes and other outbuildings, often on roads that are too steep or narrow to adequately access with the large fire trucks, and often with a lack of clear road layouts.
Photo credit MTN News
So how can the Conservation District help with Forestry Concerns?
We work cooperatively with several agencies, including:
Natural Resource Conservation Service (NRCS)
Department of Natural Resources and Conservation (DNRC)
Lewis & Clark County Disaster and Emergency Services (DES)
Bureau of Land Management (BLM)
US Forest Service
Tri-County Firesafe Working Group
During and after fires, we work together to assist private landowners with recovery efforts such as re-seeding, weed control, clean up and preparation for the increased risk of flooding.
We also work with these agencies between fire years, trying to assist private landowners with proper forestry management so that when a fire does move through their property, they are prepared and have a better chance of not losing their homes.
Each agency has specific goals and missions:
The US Forest Service and BLM largely work solely on their own lands, not traditionally interacting so much with private landowners. But since so much of their land is adjacent to private land, their management projects impact private land.
DNRC has a Forestry Assistance Bureau that works with private landowners helping them to manage forest health.
NRCS has a number of practices within programs that will assist landowners with creating fuel breaks and also assists with forest health on private lands.
Tri-County Firesafe Working Group works with private landowners, helping them to assess their risk, giving information on creating defensible space and mapping the area to ascertain highest risk areas.
DES comes into play primarily during events such as floods and fires, but they are also part of the Local Emergency Preparedness Committee which meets monthly to help plan and coordinate responses to all hazards in the county.
If you–or someone you know–needs information or assistance with forest management concerns, please feel free to give us a call and we'll try to get you in touch with the appropriate agency.
Land Stewardship Series
In 2017, the CD ran a series of articles in our newsletter, The Explorer, in regard to the meaning of land stewardship. Below you will find clickable links to those articles.
Stewardship Part 1-Land Stewardship
We work with large acreage landowners as well as small acreage landowners to assist them with their land management concerns. All have similar concerns, it's generally just a matter of scale.
Collaborative work with the Lewis & Clark County Weed District, the Lewis & Clark County Water Quality Protection District and the Helena NRCS Field Office led to an outreach campaign to smaller acreage landowners.
As part of that project, we created a document with some general resource information. You can view the presentation in PDF form.
We are very active on Facebook where we share a wide range of information as it pertains to our environment. So please click the link to Facebook and give us a like for real time updates on what's happening at the CD.
*If you are interested in seeing our projects unfold, workshops, and other events and information please sign up for our quarterly newsletter.